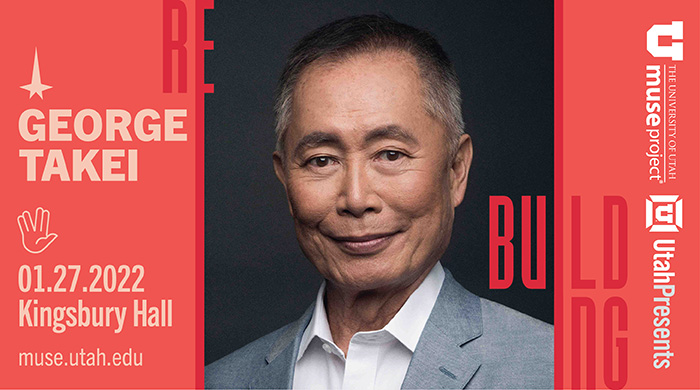 MUSE Presents George Takei
Kingsbury Hall
The University of Utah MUSE Project (My "U" Signature Experience) presents George Takei, who will keynote the MUSE Theme Year on "Rebuilding." Each year, MUSE chooses a theme and centerpiece book as the basis for its educational work. "Rebuilding" is the 2020-21 theme, and the accompanying book is Takei's graphic novel, "They Called Us Enemy," a "New York Times" Bestseller that chronicles his family's experience in Japanese-American internment camps during World War II. It tells a harrowing story of the uprooting and imprisonment of his family for the duration of the war. Takei will present on these experiences and how we can collectively move forward in the midst of turmoil and adversity. A Q&A and book signing will follow. Visit muse.utah.edu for more information.
Tickets are free but required.

Ticket on sale date TBA

Limit 2 tickets per person. Tickets will expire at 11:45AM day of show, please be in your seats by that time to avoid having your seat given to the stand-by line.