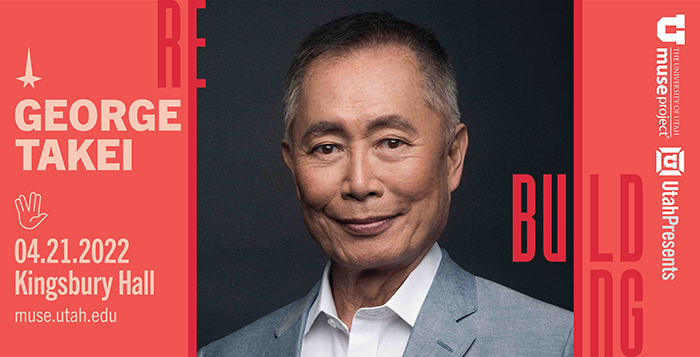 MUSE Presents George Takei
Kingsbury Hall
The University of Utah MUSE Project (My "U" Signature Experience) presents George Takei, who will keynote the 2021-22 MUSE Theme Year on "Rebuilding." Takei will discuss the themes within his graphic novel, They Called Us Enemy, a New York Times Bestseller that chronicles his family's experience in Japanese-American internment camps during World War II. Join us as we learn about Takei's unique family history, discuss what it truly means to be an American, and consider how we can collectively move forward in the midst of turmoil and adversity. A Q&A and book signing will follow. Visit muse.utah.edu for more information and to submit questions for Takei.
Tickets are free but required. Limit of 2 tickets per patron.

Tickets expire 15 minutes prior to the show start. Standby line will be available.