The Performing Arts Ticket Office at Kingsbury Hall handles ticketing for many venues on campus. To see upcoming events at each venue, click on the links below. For more specific information about each venue, please visit their individual websites.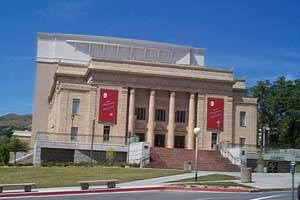 Kingsbury Hall
Kingsbury Hall is the performing arts center on the University of Utah campus. Local, national, and international performers and presenters bring performances to Kingsbury Hall, including Odyssey Dance Theatre and Broadway Across America-Utah.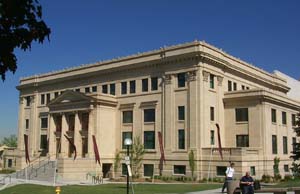 Libby Gardner Concert Hall
Libby Gardner Concert Hall contains 680 seats plus choir seating for 200 performers. The stage can accommodate over 80 musicians. A matched pair of Hamburg Steinway D concert grand pianos and the Lively-Fulcher pipe organ are on stage.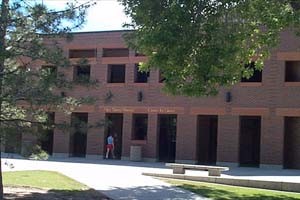 Marriott Center for Dance
The formal performance space in the Marriott Center for Dance, The Hayes Christensen Theatre, was named in honor of Elizabeth R. Hayes and William Christensen, in recognition of their outstanding contributions to dance and the University of Utah. The 333-seat professional theatre, shared by the Departments of Modern Dance and Ballet, has 14 rows of seating steeply raked to permit all audience members an excellent view. On stage left is a quick change room, restroom, and a ballet barre with an electric-radiant panel to warm dancers' legs and feet.
This versatile yet intimate theatre can accommodate a wide-variety of live and unique performances. There's not a bad seat in the house. The Hayes Christensen Theatre has hosted lectures, conventions, lunch meetings, auditions, rehearsals, concerts, and live events to name a few. In addition to the Theatre, The Marriott Center for Dance has space and studios to accommodate every activity. Rental options include a full professional staff to ensure that your event is a success. Our expertise combined with our competitive prices and flexible accommodations make us the best choice for your event. Please contact us to explore the wide explore the wide range of possibilities.